by Doug Marrin
By now, we know exercising should be a regular part of our routine.
The new Physical Activity Guidelines for Americans — released in 2018 by the Office of Disease Prevention and Health Promotion — advises adults do at least 150 minutes of moderate-intensity exercise or 75 minutes of vigorous-intensity exercise each week. If you can double those numbers, even better.
It's easier than it sounds. You don't have to do it all at once. In fact, it's preferable if you spread it out over the entire week. Its only 30 minutes a day for 5 days. You can have two days off!
Here are some realistic adjustments to your fitness routine that will make a big difference in your health.
---
WARM UP AND COOL DOWN
Before jumping right into your workout, give your engine a chance to warm up to it. Incorporate a few dynamic moves such as jumping jacks, high knee kicks, or lunges with a torso pivot.
Foam rolling is a great start or finish to any routine. Rolling your quads, calves, and other problem areas before a workout can break up adhesions and hydrate the muscles.
After you've finished your routine, don't think of stretching as more exercise. Think of it as relaxation, mindfulness, and self care. Its a few minutes of focusing on just feeling good.
---
STRENGTH TRAIN AT LEAST TWICE PER WEEK
Build muscle, burn fat, increase bone density – you've heard this by now. Just two sessions a week will reap the benefits. Muscles burn calories while the body is at rest. Build more muscle, burn more calories the rest of the day.
MIX UP YOUR STEADY STATE CARDIO WITH SOME INTERVALS
Jogging or biking, stationary or dynamic, at a steady speed helps you build endurance. If you've reached performance plateaus or can't drop the weight, shock your system with some high-intensity intervals. Don't quit jogging or biking. Just mix in some intervals to elevate your heart rate and see how your body responds.
GO OUTSIDE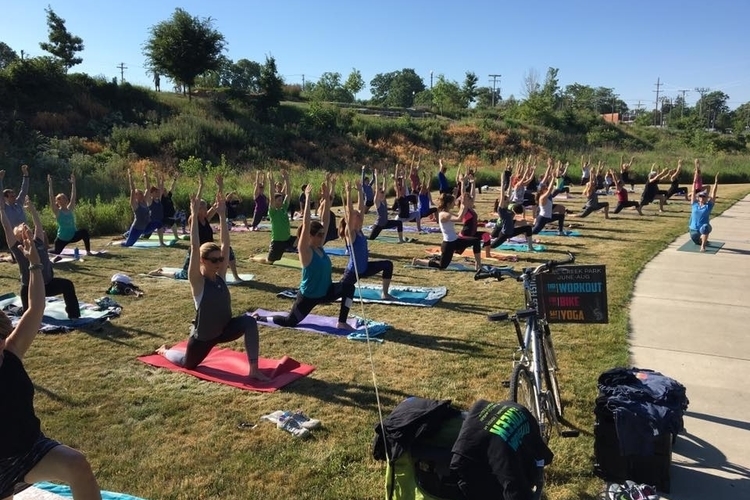 This is my favorite. Fresh air and sunshine always reduces stress, lifts our mood, and increases energy. Taking at least one workout outdoors each week and see how it affects you.
STAND UP AT LEAST ONCE PER HALF HOUR
If your job keeps you moving, good! If not, its important to realize that sedentary desk jobs can be catastrophic to our health. Research shows a link between excessive sitting and all-cause mortality. Set yourself a reminder to get out of the chair for a few minutes every half-hour to avoid some of that damage.
FOLLOW A REGULAR SLEEP SCHEDULE
Most people need 7–9 hours of sleep each night. Get too little sleep, and it can lead to weight gain, diminish your immune system and impair cognitive function. It can also sabotage all that hard work you've been putting in at the gym, as your muscles need rest to repair themselves and grow. So try going to bed at the same time each night, and shoot for about 8 solid hours of shuteye.
---
EAT BREAKFAST EVERY DAY
When you're running out the door, making breakfast might be the last thing on your mind. But if you can eat something in the morning, you'll have more energy throughout the day — and that might give you the extra push you need to get into the gym. Breakfast doesn't have to be fancy or elaborate. Scrambled eggs and a piece of whole-wheat toast or some oatmeal topped with berries does the trick.