Whether you want to plan a family cookout or kick back in your favorite lounge chair, creating a backyard landscape design with adequate privacy and a comfortable atmosphere can have a big impact on the enjoyment of your outdoor activities.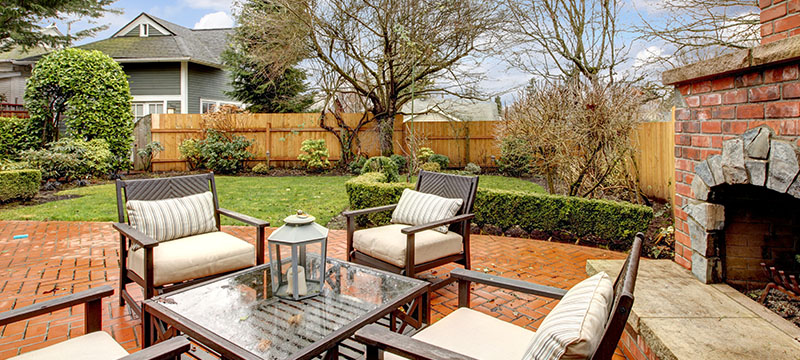 Outdoor living spaces are popular features for most homeowners, but rising real estate prices have made houses with large yards less affordable for some. As the demand for outdoor spaces grows and large houses occupy small lots, backyard privacy is at a premium. Take a look at landscape design ideas that will create maximum privacy and enjoyment in your backyard.
Solid Privacy Fences
Building a fence is a common solution for privacy in a backyard landscape design. A six-foot fence quickly provides a visual buffer between properties. It provides maximum privacy and noise reduction with a smaller footprint than shrubs and plants. A fence is a good solution in a side yard where privacy is essential, but space is limited. Although a fence can be built from various materials, a solid board fence in wood or vinyl composite will provide the best privacy for your backyard. To soften the structure, you can add an open lattice or baluster top to the fence and a variety of plants and flowers at ground level.
Semi-Private Fences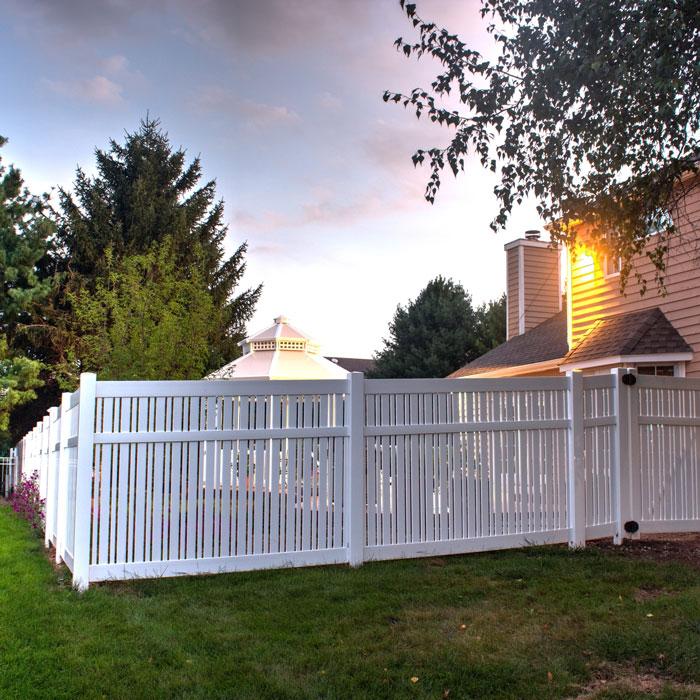 Semi-transparent fences may not provide as much noise reduction as solid privacy fences, but they add a lot of visual interest to your landscape and allow natural light and breezes into the yard. They create a comforting sense of containment and a buffer between your backyard and your neighbor's yard. If you choose to install a semi-transparent chain link or open weave fence, you can create more privacy by adding climbing vines or trailing plants to the fence or along the fence line. Within a few years, you will have a solid wall of greenery that hides the fence completely, but you will have to keep it properly trimmed to prevent unsightly overgrowth.
Stone Walls
A stone wall will add maximum privacy and unique visual appeal to any style home. With a variety of materials to choose from including granite, marble, limestone, slate, stacked stone and flagstone, it's easy to build a stone wall that complements the materials on your house, as well as your backyard landscape design. Your stone wall cost will be higher compared to building a fence, but it will last a lifetime with minimal landscape maintenance.
Garden Structures
If you have a small backyard, a tall, solid fence or stone wall may feel too confining for your outdoor space. Defined areas like small patios and terraces, decks and outdoor kitchen areas can be easily screened with open panels, trellises and arbors. By building an enclosure around your outdoor spaces, you can create privacy for outdoor activities and entertain without creating perimeter boundaries around your property. Open panels, trellises and arbors allow you to create maximum privacy with climbing vines, hanging baskets and colorful flowers. Garden structures provide an appealing, affordable option for backyard privacy in small spaces.
Trees, Shrubs, and Hedges
Shrubs and hedges provide excellent privacy for backyard settings, whether the yard is large or small. Where space is tight, for side yard areas, for example, fast-growing columnar evergreens like Italian cypress and arborvitae can provide a simple solution for separating adjoining yards or blocking sight lines out of windows where privacy is essential.
Planting deciduous shade trees is a good way to obscure a neighbor's view from a second-story window or terrace. Typically, they grow from 25-feet to 60-feet high, depending on the species. When planted near a property line or in the backyard, their large canopies provide privacy, as well as good shade in hot summer months.
Whatever the size of your backyard, you can maximize privacy to enjoy the outdoors. By blocking the eyes of peering neighbors and the sounds of intrusive noises, you can spend time in a backyard that's comfortable and peaceful year-round.