4 min read by Kristy Smith-Dupree
ANN ARBOR – Plans for a new mixed-use high rise behind the Michigan Theater have been submitted to the city of Ann Arbor for review.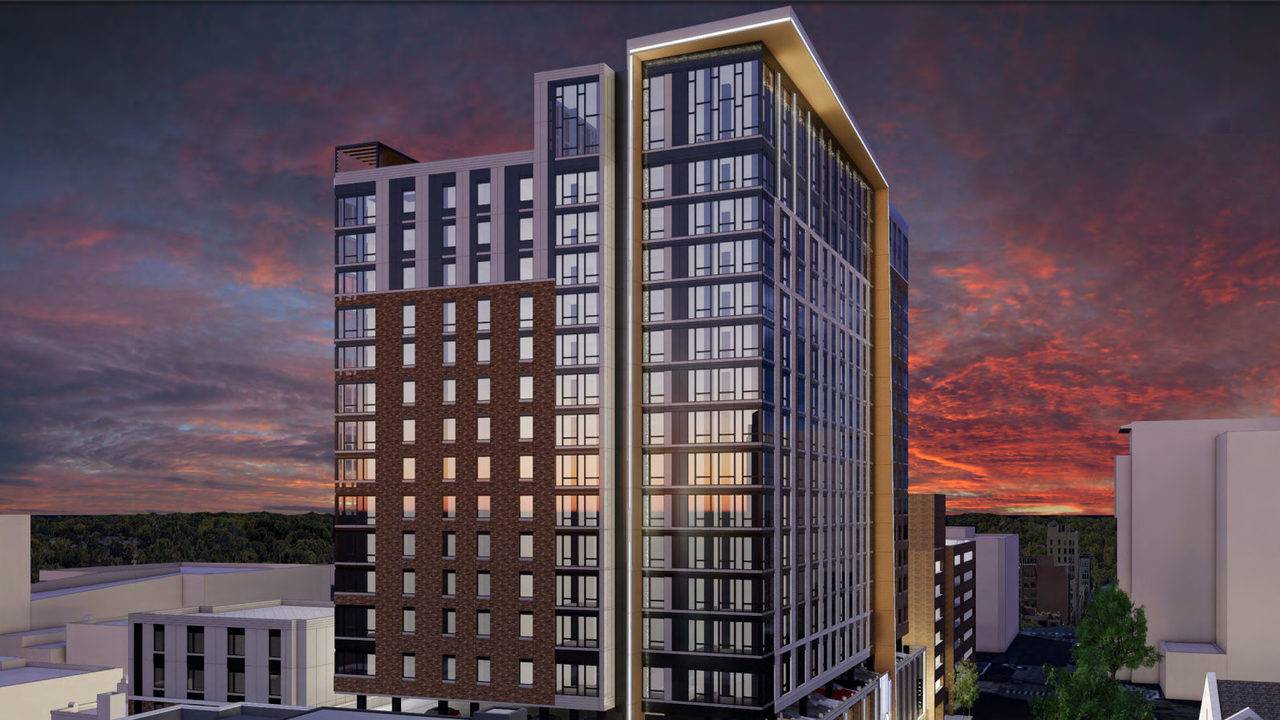 Proposed by Chicago-based CA Ventures and Cerca Trova LLC of Bloomfield Hills, the high rise would include two buildings with a total of 242 residential units, 121 parking spaces and 6,000 square feet of retail space. Nineteen of the apartments would be reserved as affordable housing for qualifying low-income residents, while a selection of micro-units will offer additional workforce housing.
"We are proposing an inclusive housing project to serve the housing needs for the University of Michigan students, post-graduate candidates and alumni as well as Michigan Medicine employees and others working downtown," said Howard Frehsee, principal of Cerca Trova LLC.
The proposal calls for a pair of residential buildings – a 19-story tower and six-story mid-rise – that, together, comprise 261 residential units. In addition, the development would create approximately 6,000 square feet of prime retail space along Washington Street, as well as 121 on-site parking spaces.
"After months of planning and collaboration with city officials and other local stakeholders, we're thrilled to present a proposal we feel will benefit not just future residents and commercial tenants, but the entire Ann Arbor community," said JJ Smith, principal of CA Ventures. "Together with our partners, we've designed a centrally located housing choice that reflects both the energy and architecture of the neighborhood, home to many popular shops, restaurants and entertainment venues. We also sought to enhance the pedestrian experience through a number of public amenities on or near our site that enhance connectivity."
In addition to affordable dwellings, planned community benefits outlined in the proposal include the creation of a mid-block pedestrian connection between Washington and Liberty streets that will link retail components within the development, such as café space with outdoor seating. A proposed internal pedestrian connection to the adjacent Liberty Square parking structure, if approved by the city, will provide access to visitor and overflow resident parking.
Designed by ESG Architecture & Design and J. Bradley Moore & Associates to appeal to a wide range of renters, the residential buildings will include a blend of unit types, including micro, studio, one-, two-, three-, four- and five-bedroom floor plans as well as two-story duplex units. The 19-story tower will house 241 units, while the mid-rise will offer 20 units.
Typical residences will come fully furnished and feature wood-grain flooring, modern kitchens with stainless steel appliances and quartz countertops, in-unit laundry and a 48-inch smart TV in the living room. All units will have access to high-speed broadband internet access.
Shared amenities include a business center with formal and informal meeting and work areas, a coffee lounge, and a state-of-the-art fitness center.
The project provides for 121 parking stalls on levels two through four of the tower, including shared vehicles and electric vehicle charging stations. Bicycle storage would be accommodated via a ramp to the basement level. Train and bus stations are also a short distance away, and the project is located along a major bus route that offers a connection to the rest of the city as well as neighboring communities.
Along with walkability to the University of Michigan campus, the proposed development, located in the State and Liberty commercial district, is just steps from a mix of local and national retail, dining and entertainment establishments. It is also a short walk to the Main Street and Kerrytown districts, the latter of which hosts the Ann Arbor Farmers Market.
Here are some renderings of the development: